Intelligent Transport Systems are systems that utilize cutting edge information communications technology to create systems that encompass people, roads and cars. This leads to a next generation transportation system that improves safety, transport efficiency and comfort, as well as contributing greatly to environmental protection. (Excerpt from the Ministry of Internal Affairs and Communications website)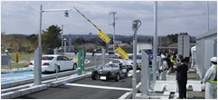 ■Features
ETC (Electronic Toll Collection System)
Also known as a Toll Road Automatic Fare Collection System. Users use ETC by inserting an ETC card (an IC card for ETC use), which contains contract and other information, into a device installed in the vehicle.
AHS (Advanced Cruise-Assist Highway Systems)
Road condition detection sensors detect road and traffic conditions in real time and transmits information to travelling vehicles.
DSRC (Dedicated Short Range Communications)
Using the 5.8GHz bandwidth, short range communications connects roadside wireless facilities (base stations) and wireless equipment (terrestrial mobile base stations) in vehicles travelling on the road with a high-speed wireless communication circuit. It is a large-capacity bi-directional mobile communications systems for short-range, small zone application.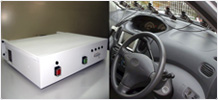 ■Services
Development, manufacture and sales of DSRC electrical field strength measurement tools and other equipment
System design, creation of working drawings and on site construction for installation construction
Land adjustment tests, system maintenance inspections
AHS system construction, development of various software
Engineering support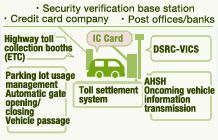 ■System Examples
ETC notification wireless construction
Smart IC construction/location adjustment
ETC location adjustment work (additions, software improvements)
AHS demonstration experiment system construction