We assist in the construction of groupware, servers, database systems and other systems that serve as the foundation of our customer's business. We also provide total balanced adjustment of systems currently in operation to offer an even higher performance platform.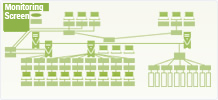 ■Server-Client System Construction
We construct an efficient network environment that combines a domain environment using Windows Active Directory and a server-client environment.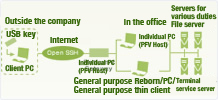 ■Remote Access
Remotely access and operate company PCs from anywhere in the world with a network connection.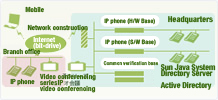 ■AV Communications
Providing construction of video conferencing environments that use IP networks and teleconferencing systems.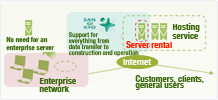 ■Hosting
Providing server systems with functions that our customers require such as FTP, email and website hosting, as well as nationwide hosting.