Fundamentally, Sangikyo is a wireless engineering services company. We provide engineering, staffing services, mobile infrastructure management services, satellite installation, antenna services, supply chain management, military communications systems, and knowledge management support systems. As experts in the Information & Communications Technology, Sangikyo specializes in everything from infrastructure design to the total operation and management. Our goal is to provide customers with our full end-to-end support in the entire system.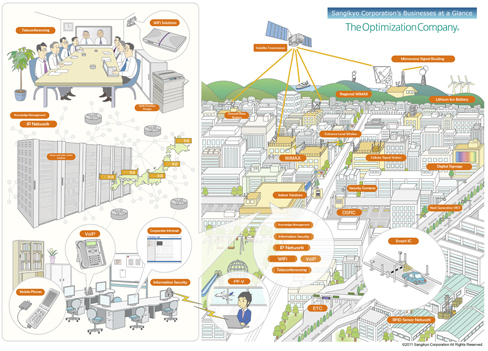 (Click to Enlarge)
Sangikyo's Primary Business Services
Mobile Communications and Engineering Services



Sangikyo specializes in Cellular Network Optimization to
enhance the performance of digital mobile infrastructures and broadcast quality. Engineering services also include construction
management, technical know-how for equipment setup and configuration, and in-depth hands-on experience for troubleshooting.

ICT and Engineering Services




Sangikyo engineers collaborate together with customers to design and build a multitude of
secure wireless networks while also providing construction, operational, and IT system support
and solutions.

Wireless Broadbrand Communication Design




Sangikyo provides broadband solutions through designing and constructing wireless LAN systems
and networks.

Knowledge Management System Support




Sangikyo focuses on management optimization services to help companies with a tailored
solution to enhance their overall business and employee efficiency.