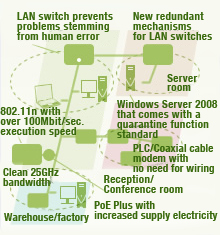 ■One-Stop Service to Achieve Total IT Services
IT systems that are divided into multiple parts can be combined. Offering one-stop service enables cost reductions. Construction using the latest security products and robust security technology from facility solutions to groupware applications that make up the core of a company enables the IT department to become more efficient, faster, and maximize compliance. One-statement management is also possible for maintenance and operation after construction.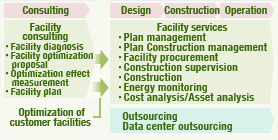 ■Facility Optimization
Providing high quality, optimal services from consultants to implementation and construction for your IT facilities.

■Network Optimization
Not only do we assist in crating an optimal network system, but we also assist in reducing costs in maintenance and operation.

■Security Optimization
Supporting everything from software and hardware security to entry and exit management to protect information important to our customers from leaks and falsification.

■Platform Optimization
Creation of and assistance for groupware, servers, database systems and more, which server as a foundation for our customers. We also provide performance platforms by conducting optimal tuning.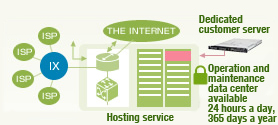 ■Application Service
Direct progress management is now possible through sharing of in-house information. Vital how-to information gained through operational experience is made available as resources by converting them to files. Increases transparency and productivity of information.