We provide total management of facilities in all fields related to information communication that comprises the backbone of the company. We also provide total infrastructure equipment coverage for relocation and new construction of offices. Employees will go to work as usual to their new offices to find an environment that configured in an identical manner to their old offices and will be able to engage in their duties that same day.



■Facility Solution Service
Facility management that matches customer needs such as priority on security, priority on cost, priority on speed and so on. We provide an optimal facility through total management.

■System Network On Site Nationwide Maintenance Service
We isolate network faults and provide on site maintenance services. We also provide assistance to administrators though outsourcing.

■Enterprise Infrastructure Construction (Local Area Wiring Work)
We conduct wiring work for local area telephone networks and cables. By analyzing the current situation, we provide flexible design and construction that assumes business and floor space expansion.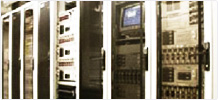 ■Various Verification Services
We accurately measure the type of infrastructure use that best suits our customers by conducting verifications of network equipment and PBXs. We then propose services that our best suited to the usage environment and business format of our customer.