We provide optimal network solutions for our customers from a muti-vendor perspective. In addition, we also engage in design, construction and operation with the latest technologies that assume the expansion of our customer's business. Through ideal management of legacy environments where both new and old equipment and platform settings coexist, and through coexistence or seamless transfer and updates, complicated work is unified and costs can be further reduced by recreating systems as a safe and robust network solution that is easy to use by the customer.



■Enterprise Telephone Network
The state of use of the existing telephone network is reviewed and an enterprise telephone network suitable for the business form of the customer is designed and constructed. This increases convenience while reducing fixed costs at the same time.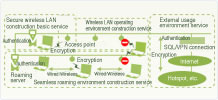 ■Wireless LAN System Construction
Accommodating flexible office layouts and eliminating risks associated with wireless LAN networks through advanced security technology and the latest security products. IEEE802.1X also denies any unauthorized connections.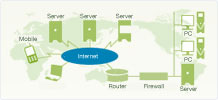 ■Network Construction
Realizing stress-free and smooth network operations through routing between sites, which match the customer's environment, or switch settings according to the structural organization of the company.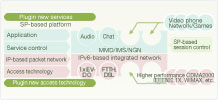 ■Next Generation Networks
We provide configurations through next generation networks. Increased communications speeds using broadband. Providing networks in sparsely populated areas through the use of wireless broadband.

■Network Monitoring Service
We provide network fault monitoring services as well as provide individual dispatch support (LAN related, PBX related, etc.) when faults occur. We also accommodate resident outsourcing.

■Digital Divide Measures
We provide solutions to digital divide problems in areas where existing infrastructure cannot be used due to geographical conditions. We make cable-free network access possible.