By utilizing the cellular phone and wireless technology that our company has accumulated, we provide WiMAX wireless network construction services in Japan and abroad. We are able to provide total project services from system design to wireless base station survey and design, equipment procurement, construction, site coordination, wireless network optimization services, operation and maintenance support services as well as management of all of the above.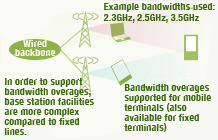 ■Mobile WiMAX
The WiMAX chipset is incorporated into a variety of products including laptop PCs, PDAs, gaming devices, digital appliances and cars. It is provided to the market as a truly ubiquitous terminal. Our company provides technology services for the construction of WiMAX networks that makes up a network that not only covers Japan, but the entire world. We provide high quality services that will satisfy the end users through our optimization services that utilize our experience in improving cellular phone network service quality.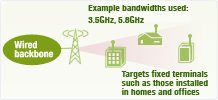 ■Fixed WiMAX
We provide high-speed wireless data networks that use WiMAX technology as a regional communications tool that can be utilized for regional industry promotion, as well as for cultural, welfare and disaster prevention purposes in order to eliminate the digital divide. In addition to WiMAX networks, we can also provide technology services for gap filler facilities for areas with poor terrestrial digital broadcast reception.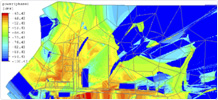 ■WiMAX Wireless Network Optimization Tools
Our partners are able to provide tools (data logging tools, data analysis tools, RF scanners) required to provide WiMAX wireless network optimization services.